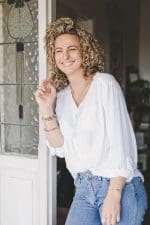 Description of you / your practice
I'm Hayley.
I work as a Naturopath, Bowen Therapist and Yoga teacher, and have been working and consulting in the health space for over 20years.
In many ways i still feel like i only started this journey yesterday (time flies when you're having fun), but with every passing year i feel more and more in love with what i do and how i offer it.
Herbal and Nutritional medicine, Bowen therapy and movement (for me in the form of Yoga), help me to trust in the great mystery and intelligence that is our body, this life, and Nature herself.
'Healing through Joy' forms the basis of my wellness philosophy. I know in my bones, that none of us can heal without allowing ourselves to experience pleasure and joy. They are essential for all of us, and our birth right.
I'm a big advocate for personalised medicine. We are all unique, and our health choices and treatments must reflect our individuality………Our stories as well are important, multifaceted and nuanced – our health story is a part of a bigger story – our life story.
My role is simply to hold a space for you to step in to YOUR healing journey, and to trust that your body does indeed know how to heal.
If this resonates - i'd love to work with you.
Hayley