The G.E.M.M Foundation Course: Principles & Implementation
The G.E.M.M Foundation Course: Principles & Implementation
Sessions 1-4: Principles
The Foundations Course includes both video recordings of the seminars, together with a Learning Pack of printed material. On your enrolment, the Learning Pack will be sent to you from our nearest distribution point if you are outside Australia. The Learning Pack includes the 48-page fully-referenced Implementation Guide, a compendium of the key slides your Instructors are using in the live presentations, together with numerous other files and reference materials discussed during the presentations.
It is recommended that you watch the videos with the Implementation Guide and the compendium of slides beside you for reference and notation.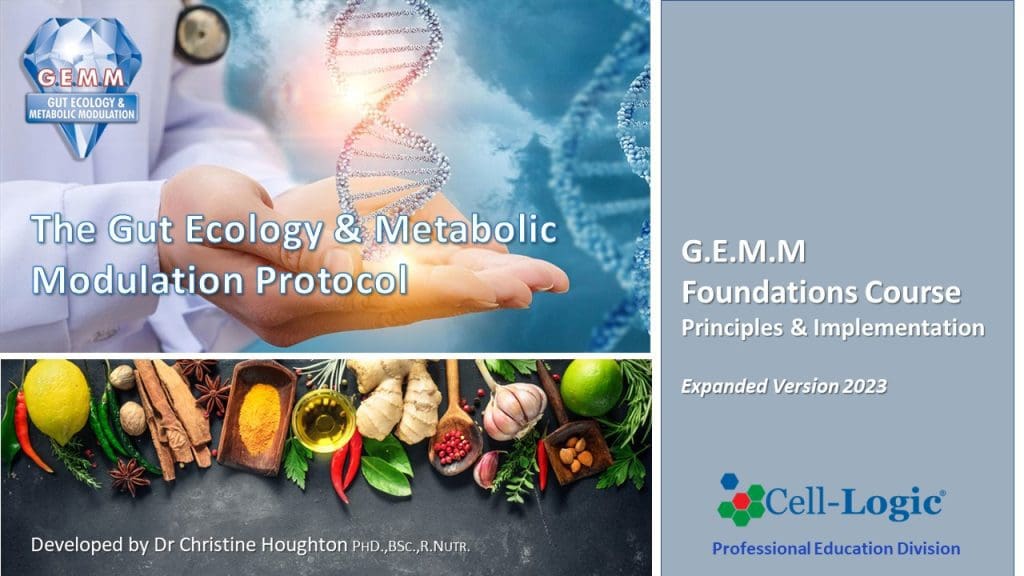 Sessions 5-6: Implementation
These final sessions build on the core skills you learned in Sessions 1-4, by reinforcing the core principles, and adding several new ones related to the successful implementation of Clinical Nutrigenomics. We showcase relevant case studies to illustrate how a G.E.M.M. case is managed, including how we record and track biomarker data.
Post course: G.E.M.M Accreditation
Following completion of all sessions, you may undertake the G.E.M.M Accreditation Assessment. Successful completion of the Assessment entitles you to:
Listing on our global online database.
Referrals from our Clinical Education team.
Annual Upskill Sessions to update and enhance your clinical skills and knowledge.
VIP pricing to Cell-Logic and the Institute for Nutrigenomic Medicine education programmes.
Access to the G.E.M.M-accredited Marketing Kit for use on your digital platforms:

A selection of text blocks in different styles
High-quality G.E.M.M-related artwork.
G.E.M.M-accredited Clinician badge to complement your Certificate of Recognition.
*This Course is open to appropriately-qualified clinicians who are pre-registered on the Cell-Logic website. The Foundations Course effectively requires 12 hours of your time and we recommend that it be approved for 12 Continuing Education credits where applicable. After successful enrolment, you will be redirected to your Dashboard – please click on the 'Courses' tab to access your course.
Subscribe to our Newsletter
Subscribe to receive articles covering the latest on a range of health-related topics, special promotions and coming events. Be assured that we will never share your email address.