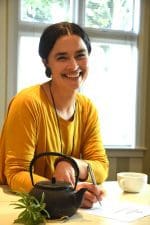 Description of you / your practice
I have been a practising naturopath and medical herbalist for the past 18 years. Over that time I have worked with a wide range of clients with various health issues, and have developed a deep respect for the important role that natural healthcare plays alongside conventional medicine in our community.
Natural medicine is powerful because it seeks to build vitality and robustness and bring people back to balance. Finding the ways to do this involves some investigation- listening, thinking, testing where needed. Sometimes the answers are surprisingly simple and sometimes more complex. Sometimes they are in your fridge or your garden, and sometimes they are in the dispensary.
Qualifications:
BHSc(Comp Med), Adv Dip Herb Med, Adv Dip Nat, BA, MNZAMH, MNMHNZ
I completed my Bachelor of Health Sciences in Complementary Medicine at Charles Sturt University in Australia in 2004. My naturopathic and herbal medicine training was a three-year degree course at South Pacific College of Natural Therapeutics in Auckland, also completed in 2004. I am a full professional member of both the New Zealand Association of Medical Herbalists (NZAMH) and the Naturopaths and Medical Herbalists of New Zealand (NMHNZ).