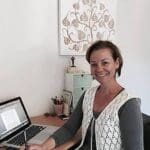 Description of you / your practice
Fiona Hoptman BHSc (WHM), Adv Dip WHM, Dip Nut.
Fiona's clinical practice experience spans over 10 years. She has a special interest in integrative care and assisting to treat chronic illness and develop a more preventative plan for the future.
Fiona ensures ongoing continuing professional education to retain knowledge and keep up with advances in the industry, ensuring clients continue to be updated with new or emerging natural medicine techniques.
Fiona has also completed additional accreditation as a Practitioner in Nutrigenomics and Mind health.
Areas of Expertise
Cellular & Mitochondria health for healthy ageing
G.I.T and Immune illnesses
Chronic Illness
Mild Depression
Anxiety, Mood disorders
Chronic Fatigue Syndrome
Fiona continues to successfully treat people across a wide range of illnesses amongst a diverse age group.
Fiona is passionate about Integrating other services into today's health care model. An integrative health model is a very wholistic approach that nurture's each person to their individual needs.  Integration with services and/or medication via your GP, Physiotherapist, Chiropractor, Psychotherapist or Psychologist, plus additional recommendations may include; Reiki, Massage, Myotherapy, Acupuncture, Yoga, Kinesiology.