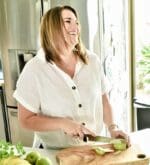 Description of you / your practice
AMV Nutrition was established to assist people to navigate their thyroid and metabolic conditions and provide a sustainable program to help support and reduce signs and symptoms.   I believe that the body can be healed through good nutrition and lifestyle choices. I'm passionate about helping my clients regain their vitality and wellbeing again.
When my own unhealthy habits led to gallstones and ultimately the removal of my gallbladder, I was driven to reassess my nutrition for the benefit of my long term health. My passion for wanting to understand how our bodies respond and thrive in relation to what we eat led to me studying nutrition at the Endeavour College of Natural Health, gaining a Health Science Degree in Nutritional and Dietetic Medicine.
My Clinic, located in Helensvale on the Gold Coast specialises in thyroid and metabolic conditions and the disorders associated such as weight gain, gut conditions, high blood pressure, high cholesterol, high blood sugars and high triglycerides.  I want you to know I that I get it, I've walked in your shoes, I know the struggles and the heartache. I'm here to take your hand and help you navigate the world of nutrition, provide you with targeted treatment plans and work at your pace. Together, we can reach the goals you are wanting to achieve.