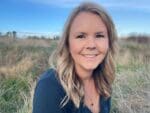 Description of you / your practice
I am a degree qualified, registered Naturopath, Medical Herbalist and Pharmacist. I support adults and children with Asthma, Eczema, Allergies and general immune dysfunction through Nutrition and Natural Medicine. My approach integrates science, nutrition & lifestyle, to educate and empower my patients to re-create balance and take back control of their health. I work closely with my patients to provide a step by step approach that is both realistic, achievable and sustainable.
Along side my clinic, I work closely with Asthma New Zealand to provide patients education on ways in which they can incorporate a holistic approach into their asthma management.