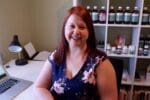 Description of you / your practice
Hi there! I'm Denise and I'm a Naturopath, nutrigenomics nerd, ex-teacher, country music fanatic and a home-farmer (in training). I help women with autoimmune disease manage their symptoms using the power of nutrigenomics, diet and lifestyle, so they can be symptom-free, feel fabulous and regain their zest for life.
I also have a special interest in complex cases, so if you feel you have exhausted all avenues and don't know where to turn next, I'd love to help you.