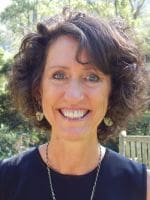 Description of you / your practice
Andrea Southern is a qualified Naturopath, Herbal Medicine Practitioner and Clinical Nutritionist. Practising from The Gap, Brisbane her aim is to teach you about health and nutrition and to empower you to live a healthy, happy and well balanced life.
Focusing on food as Nature intended – whole nutritious food – and balancing lifestyle are the keys to good health. Andrea will work closely with you to treat the cause of your ill health and give you the tools to continue your health journey into the future.
Andrea treats a wide range of health conditions including Thyroid dysfunction, Stress, Anxiety and Depression, Digestive complaints, Autoimmune conditions, Fatigue and Weight issues.